SOLAR PANEL CLEANING MAXIMIZES YOUR PORLAND SOLAR ENERGY LEVELS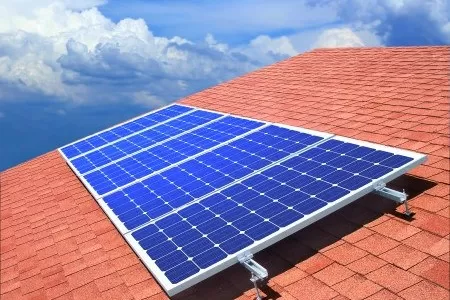 Green energy is great, but you don't want your solar panels to be covered in green grime. For the best solar panel cleaning for your Portland home, the pressure washing pros at Absolute Cleaning Services will eliminate that grime and build-up from your solar panels and leave everyone who looks at your home appalled by the clean.
Your solar panels soak up the vibrant Oregon sunshine, providing clean energy to keep your Portland home cool and comfortable. Keep your solar energy system operating at maximum efficiency with solar panel cleaning from the specialists at Absolute Cleaning Services. Make solar panel cleaning a part of your regular house washing maintenance routine. Doing so offers a number of benefits, such as:
Increasing energy absorption
Increasing energy output
Enhancing aesthetic appeal
Elevating safety and eliminating potential damage
Your solar panels are comprised of cells that convert sunlight into electricity. Keeping your solar panels free of animal and bird droppings, leaves, tree sap, and dirt allows for sunlight to collect at a higher level. Solar panels are a big investment, so keeping your investment well-maintained will extend their useful lifespan and keep them functioning correctly for years to come. Give Absolute Cleaning Services a call today and let us show you what a difference solar panel cleaning can make for your home in Portland.
Add Solar Panel Cleaning To Your Regular Home Maintenance Routine
Absolute Cleaning Services uses the soft washing method for solar panel cleaning and roof cleaning services. Soft washing is the gentle companion to its high-pressure counterpart, using the power of biodegradable cleaning solutions to saturate dirt, grime, and organic invaders and gently remove them from your more delicate exterior surfaces. Soft washing is a great option for cleaning solar panels, roofing materials, glass surfaces, screened enclosures, and other exterior surfaces that may be too fragile for high-pressure cleaning. Your pressure washing professional at Absolute Cleaning Services will evaluate your exterior cleaning project and provide you with customized applications to meet your specific needs.
With years of customer service experience and insider knowledge of the pressure washing industry, the pros at Absolute Cleaning Services are ready to provide you with quality workmanship and exceptional customer service. We can take your Portland home to a whole new level of curb appeal with our full line of residential and commercial pressure washing and soft washing services, which include:
House washing
Driveway cleaning
Fence washing
Sidewalk cleaning
Commercial pressure washing
And many more!
We have extensive experience in this industry and are dedicated to giving your property the same care and professional expertise as we'd give to our homes. Don't renovate your home– reinvigorate it with professional pressure washing and soft washing services from Portland's leader in exterior cleaning, Absolute Cleaning Services.