DECK CLEANING FOR STUNNING PORTLAND PATIOS & PORCHES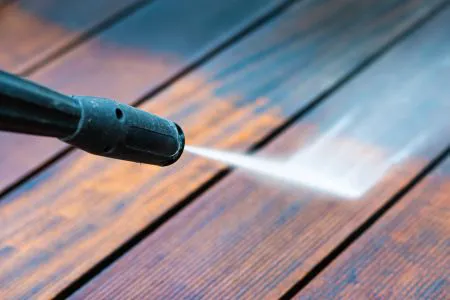 While your actual home is the showpiece of your property, other exterior features can make or break the look. Your deck falls into this important but sometimes neglected category.
So when it's time to schedule deck cleaning for your Portland-area home, choose Absolute Cleaning Services to handle this all-important task for you.
Whether your deck is wood or recycled composite material, our team of professionals will provide top-notch pressure washing in Portland. Since a deck usually serves as a popular place to socialize and entertain, it's important to keep the look clean and sharp; annual deck cleaning by Absolute Cleaning Services will ensure this happens.
Especially if your deck is made of wooden 2×4's, it's important to pressure wash before staining. This will better prepare the wood to receive the stain that will protect your deck from the elements and ensure safe footing.
House Washing Will Keep The Exterior Of Your Home Looking Pristine
No house is immune to aging, sometimes resulting in an unwanted look. Temperature extremes, precipitation, and mold are just a few examples of the adverse effects of the elements.
Driveway cleaning by Absolute Cleaning Services' team of professionals may be just what your house needs. We use the latest methods and equipment to remove unsightly blemishes and restore a look you can be proud of.
We Also Clean Porches And Patios
Mold, mildew, algae, and moss can make an otherwise aesthetically pleasing porch or look less than attractive. So why is it important to pressure wash these popular features? Patio and porch washing will:
Improve the overall look of your property
Remove contaminants that could cause premature aging
Ensure safe footing in this high-traffic area
Increase the value of your home
Pressure washing your patio and porch doesn't have to be something that causes you undue stress. Instead, let us wash away contaminants before they take hold and eventually might lead to paved surface deterioration.
Absolute Cleaning Services is standing by to perform any pressure washing task your home or business might require. From driveway cleaning to patio and porch washing, we size up each job with your individual needs in mind. Then we devise a plan and go to work.