FENCE WASHING FOR WELL-KEPT PORTLAND HOMES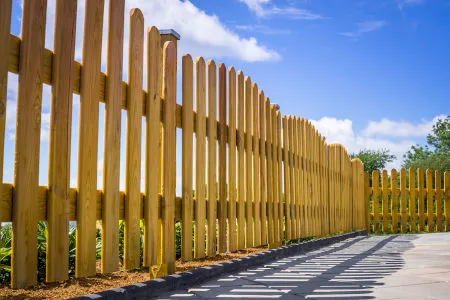 Fences serve several important purposes. They provide you with privacy, keep pets from getting out, and, in many cases, enhance the look of your Portland property. This makes fence washing in Portland a top priority for homeowners.
Whether your fence is wood, vinyl, or chain link, Absolute Cleaning Services' team of pressure washing professionals can wash away mold, weather-wear, and rust stains and restore your fence.
Fence washing is just one of the services we offer. And since pressure washing for Portland should be a prime concern for homeowners, we have a full slate of treatment options to extend the life of your fence.
The curb appeal that will result from fence washing will be immediate once we complete our pressure washing treatment. Weather-worn wood and spotty and stained vinyl will appear like new. And your flower beds also will look better than they ever have when the light shines off that white vinyl.
Thorough Fence Cleaning Is Essential In Portland
A soft-washing approach is also an option when it comes to fence cleaning. This method involves the application of environmentally friendly decontaminants applied after initial pressure washing.
A soap-like substance and low-pressure water-and-brush system is employed in order to ensure all the dirt, mold, and grime are removed and the surface is 100% clean. Absolute Cleaning Services can apply this method (or a variation of it), regardless of the material your fence is composed of.
Give Absolute Cleaning Services A Call. You'll Be Glad You Did
Absolute Cleaning Services offers multiple treatment options, including:
House washing
Roof washing
Commercial pressure washing
These services are common offerings provided by pressure washing businesses. What sets the Absolute Cleaning Services team apart from the others is that we are all about the customer.
Owner Bryant Lannie describes his company's approach to pressure washing: "We are different in the fact we take an ethical approach to everything we do. Whether it's in how we price or the communities we focus on, it's always built around mutual agreement and trust between us and those communities."
We have the pressure washing solution you require, whether for your fence, the exterior of your home, or your business. Call us today at 503-300-6777.