HOUSE WASHING TO UPGRADE YOUR PORTLAND CURB APPEAL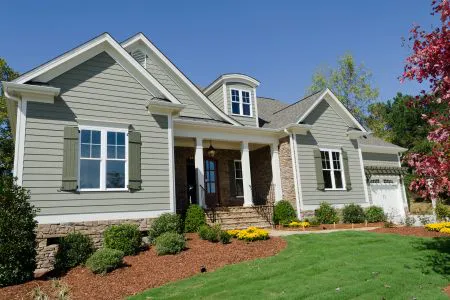 When considering who to call for a house washing treatment in the greater Portland area, consider all that Absolute Cleaning Services have to offer.
Our team of professional pressure washers takes great care when considering the absolute best option for house washing. Vinyl, stucco, brick, etc. – it doesn't matter. Effective pressure washing in Portland requires the absolute best company – Absolute Cleaning Services, to be exact – and we will take great care when performing a house washing treatment.
Consider the amazing benefits of house washing:
Removal of unwanted dirt and grime
Restoration of siding, regardless of the material
Improved curb appeal
Increased resale value
Since Portland weather means there's moisture in the air year-round, the exterior of your home can take a beating. Sometimes years go by before you realize that look you once took for granted has faded and the exterior isn't as brilliant as it once was.
Exterior Home Surface Cleaning
Scheduling a house washing consultation with Absolute Cleaning Services will result in a plan to bring back the like-new look that's been lacking. Over time, dirt, grime, and even mold will find their way into the cracks and crevices of the exterior of your home.
Surfaces such as brick and stucco often capture dirt in their porous material and require more pressure, while vinyl and wood siding are flatter and the dirt is more obvious. Our house washing experts know exactly how to remove these contaminants and do so with care and precision.
Go Beyond House Washing And Think About Additional Treatment Options
Once you've decided to tackle the exterior look of your home or business, perhaps it's time to consider additional options such as:
Roof cleaning
Sidewalk and patio washing
Commercial cleaning
These options are available through Absolute Cleaning Services, and whether your home requires one or even several areas of treatment, rest assured we will do the job to your specifications.
Some homeowners prefer treatments at the beginning of summer so their patio is pristine during the warmer months. Others might require roof late autumn cleaning to rid gutters of dead leaves, twigs, and pine needles. Regardless of your home washing needs, Absolute Cleaning Services is ready to go to work – for you.